HRB VI - The FOS
But first . . . the breakroom! An important part of any business. This one happen to also be the other half of our Manager's Office.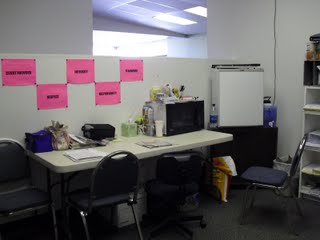 And (finally!) the Fortress of Solitude (aka The FOS). If you ignore all the wiring in the ceiling, not a bad place. There are two computers, a printer, pictures of children and grandchildren. We brought the phone network in to the office this week, carpet, even a table that some may recognize from my home office in Idaho.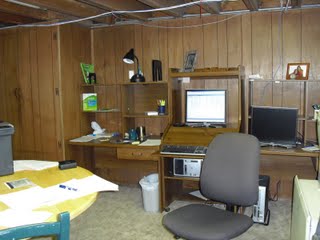 We can access the Internet and HRB Network, monitor activity at workstations, receive calls and conference with the bee hive of activity upstairs. Soon there will be a wireless network to allow our laptop computers on to the World Wide Web.
We could even prepare taxes if we were so inclined!
Okay, that's it! Everyone who is interested has seen more than they ever wanted to see about our new franchise.
"At H&R Block, You've Got People" No, wait. That was last year's slogan. "Click, Call or Come Over" :o)
Labels: Washington Wrigley Wranch