H&R Block welcomes YOU!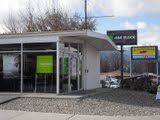 Jeff 'suggested' it was about time for Lynda and I to publish a few pictures of our new enterprise.
First a few views from the street.
Both this picture and above are what one would see heading west on Highway 395 (if you were to stand in the middle of the street like I was).
Next in the series we will take you inside! Stay tuned for HRB II
Below is the same (leased) building looking towards the east.
Labels: Washington Wrigley Wranch