HRB II
Now we move inside.

This is one of our three receptionists (Erica). They greet the clients, take incoming calls, collect our fees and keep the office running. We refer to them as our CSPs (Customer Service Professionals)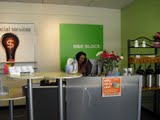 Below is what the client sees as they are following a tax professional to their work station.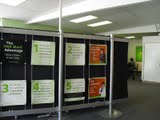 And here are two of our eleven tax professionals working through the tax interview process.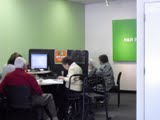 Actually, you can only see our most senior pro (Mary). She has been doing other folks taxes for HRB (and now us) for over 20 years. You can almost see Murry working further behind her with his client.
Can HRB III be far behind?
Labels: Washington Wrigley Wranch