HRB V
This is our Office Manager's "office". Computers on the ground to the left in the picture are leaving. All new units have been installed to better serve the customer.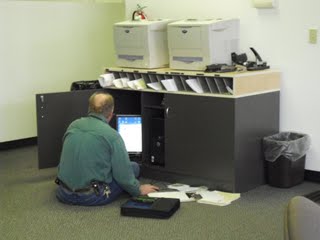 Here, 'Terry the Tech' works to upgrade our network. Operation REWIND took place this past weekend. We had the office re-imaged from a company owned unit to a franchise owned unit.
Another Tax Pro (Sara) comes in on her own time to adjust a filing for a client.
Coming up in HRB VI (the last of the series)? The long awaited Fortress of Solitude (aka Ken & Lynda's office)
Labels: Washington Wrigley Wranch