Who is the best indian?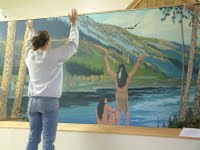 It is a rhetorical question. No voting please!
While we were having the Wrigley Wranch Washington Wreunion last August, I had the visitors pose in front of this Indian mural at a local museum.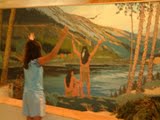 Melissa actually had her picture taken while she was visiting in August of 2008 .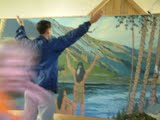 I am not sure what the blurred image is in Jeff's picture. Perhaps some spirit.
I assume the Indian was either praying or yelling at the bird painted above him.
Katelyn is so small, I should have had her pose as the female (the word squaw is OUT), sitting on the beach.

Labels: Washington Wrigley Wranch